Instructors
Find out more about the Tai Chi instructors of our school.
Principal Instructor - Master Kam Lau [劉錦榮]
Master Kam Lau is one of the most experienced Tai Chi teachers in England, having been in the profession for over 30 years and has taught thousands of students.
The early years - Happy Kung Fu Years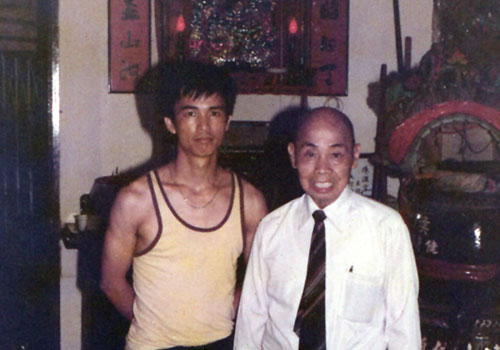 Like many young people who lived in Kong Kong, I was drawn to Kung Fu after watching many Chinese martial arts films on TV. One of my earliest recollections was a film called 'Wong Fei Hung [黄飛鴻]' starring the late well-known actor Kwan Tak-Hing [關德興] (Jet Li [李連杰] being the most recent). Wong Fei-Hung was one of the most famous and feared ten tigers in the martial arts world of Canton, China.
For various reasons I did not start Kung Fu and Tai Chi Chuan training till my early 20s. My first Kung Fu teacher was the late Hung Gar Kuen [洪家拳] (also known as Hung Gar or Hung Kuen) Grandmaster Chan Hon-Chung [陳漢宗] (Chairman of the Hong Kong Chinese Martial Arts Association). Chan Hon-Chung was the top disciple of Lam Sai-Wing [林世榮] in Hong Kong, who in turn was one of the top disciples of the legendary Wong Fei-Hung in China.
Train harder if you want to succeed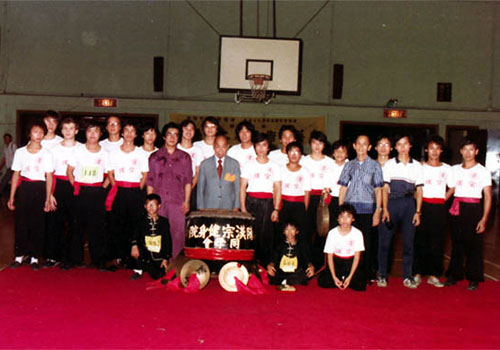 By the time I joined the school, Sifu Chan was semi-retired from teaching Kung Fu. His senior students would do most of the teaching on his behalf. Sifu Chan once told me that he realised that he himself wasn't the most gifted at martial arts when he started learning Kung Fu from Lam Sai-Wing. To compensate, he would instead train very hard - what his Kung Fu brothers could and would do once, he would do a thousand times. He also told me that he didn't like his students talking too much in training, and that normally the clever ones don't have the patience or willingness to train hard. Pulling me aside, he said: "You on the other hand have the ability, so train harder if you want to succeed". I took everything he said.
To broaden my martial arts knowledge, I also studied Tai Chi Chuan under the guidance of Master Hui Cheung Yin [許象賢], a student of Tung Yin Kit [董英杰] (Dong Ying Jie) who was a Yang style Tai Chi Chuan specialist.
Later, I also studied Chen style Tai Chi Chuan with Master Su Jin Li [蘇經禮], a not so famous but very knowledgeable teacher from Shanghai who studied under the late Gu Liu Xin [顧留馨]. I was fascinated and impressed by Master Su's explanation and demonstration of Tai Chi's internal power, Peng Jin. The introduction of this "mysterious power" has luckily opened another new pathway for me into the world of Tai Chi.
Of course in historial terms, Yang style Tai Chi chuan evolved from Chen style Taijiquan, which we call "The Mother and Son of Tai Chi Chuan". I therefore longed to embrace the Mother of Taijiquan and as fate would have it, I was soon to have my wish granted.
Grandmaster Chen Xiao Wang [陳小旺宗師]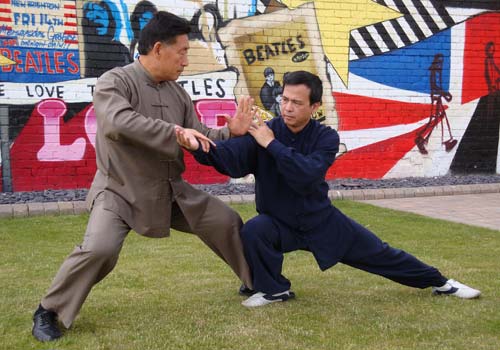 In 1997, to further deepen my knowledge of Tai Chi Chuan, I seized the opportunity to train with Grandmaster Chen Xiao Wang, the 19th generation of the Chen family in Chen Jia Gou [陳家溝] (Chen village). Grandmaster Chen Xiao Wang is the 11th generation standard bearer of Chen style Taijiquan, and he is one of the most renowned Tai Chi Grandmasters in the world today. Since then, we have been able to bring Grandmaster Chen Xiao Wang and Chen style Taijiquan to Merseyside every year.
On the 9th March 2006, I was invited to a special ceremony in Chen Jia Gou (the home town of Grandmaster Chen Xiao Wang), Henan, China, where I was made a disciple by him. A great honour and priviledge indeed.
My personal honours and achievements
European disciple of world renowned Tai Chi Grandmaster Chen Xiao Wang (Wushu Duan Wei Grade 9 - the highest ranking).
1993 British Open Tai Chi Champion
Honorary Vice-President of Tai Chi Union for Great Britain.
Awarded Chinese Wushu Duan Wei Grade 6 by China Wushu Associated in 2007.
Over 30 years of Tai Chi experience.
Has trained many Tai Chi Hand Forms & Push Hand champions since 1995.
Instructor - Denise Halsall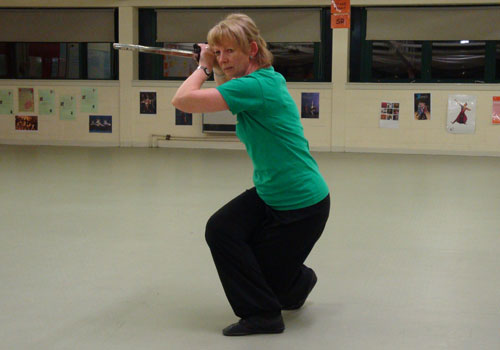 My name is Denise Halsall and this is just a resume of my pathway along the 'Tai Chi Road'.
I first became aware of Tai Chi Chuan after hearing about it in various martial arts books and magazines that I was always reading. It sounded like it would fit the bill for me, as I had never actually studied a martial art, although I had always had an interest. Then in the summer of 1995 I saw a small advertisement in my local post office window. It of course belonged to Kam, and the rest as they say is history.
In 1998 Kam asked me if I would like to teach for the Kam Lau School, and although I didn't think my Tai Chi was up to the task, I agreed to give it a try! This required much more personal practice on my part and more intense training with Kam to stay ahead of my students, but I think it paid off. When you study Tai Chi, you never stop learning.
When I first attended the British Open competition (it was in London then) and watched the Push Hands competition for the first time, it seemed to me to resemble sumo-wrestling with competitors doing nothing more than pushing and pulling each other around. When you train however it becomes clear that there is a lot more to it, and that is when the theoretical side of Tai Chi becomes clearer. Grandmaster Chen says, "The object of push hands is to achieve sensitivity to the movement and intention of your opponent, whilst disguising your own intention and energy". A person's natural reaction is to try and overcome an incoming force with more force, but in Push Hands training it eventually teaches you to adhere, connect, stick and follow. These abilities are honed with training.
I have since entered competitions and been lucky enough to win three gold and various silver medals in Push Hands over the period of competing.
I do not think I would feel as fit and well as I do today without Tai Chi as I see so many of my contemporaries with joint and back pain. So as long as I am able, I will be training with Kam and continuing to take advantage of his skills and expertise, which in my opinion is second to none.
Instructor - Rose Weatherston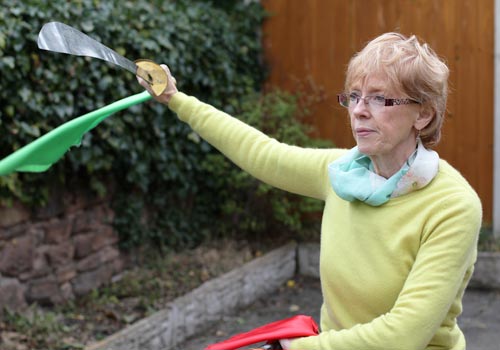 Coming from a working background in health and education, I became very interested in the healing aspects of Tai Chi Chuan after being diagnosed with some health problems.
I began studying Tai Chi in 2006, focusing initially on the Wu style, learning the square and round forms with my lovely teacher Maria Yuen, daughter of Sifu John Yuen of the Blackburn Tai Chi Academy, Australia. This was a great introduction to Tai Chi Chuan, made very accessible by Maria's friendly and encouraging teaching style. I was very fortunate to be introduced to weapon forms including straight sword, single broadsword, staff and two person-forms and have the chance to receive corrections from Sifu Yuen on his annual UK visits. At this point I was developing an awareness of the depth and breadth of Tai Chi.
In 2009 I began to further my studies with my current teacher, Master Kam Lau of the Kam Lau School of Tai Chi Chuan in Liverpool. With Master Kam Lau, I began training in the martial arts element of Tai Chi. By practising the self defence applications of the Chen style, I found (as I continue to find) my Chen form improving. Master Kam is a direct disciple of Grandmaster Chen Xiaowang and I have been extremely lucky to have the opportunity to train with the Grandmaster and learn the double broadsword and to practise applications, silk reeling and qigong under his guidance.
I cannot recommend Master Kam's teaching highly enough. His depth of experience, skill and knowledge is vast and I find him to be an outstanding and generous teacher who is both humourous and encouraging while developing his students to their very best. His own high standards encourage you to give your best and apply this attitude to your own ongoing personal development.
Being given the honour of representing the school as an instructor is a responsibility that not only encourages more precision in your own practice but is a wonderful opportunity to introduce to others the great art of Tai Chi Chuan. My goal is to represent the art well and hopefully pass on some of my own enthusiasms.
I am very appreciative of all my teaching and teachers, and I am most grateful to Master Kam Lau for his own dedication to the art of Tai Chi Chuan and his excellent teaching which I continue to enjoy.
Instructor - Gerry Weatherston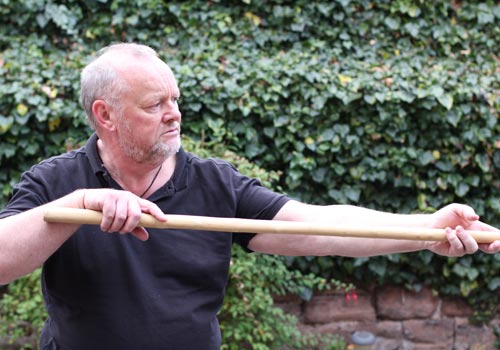 Like many students, I came to Tai Chi Chuan in search of health benefits. In 2001, a severe shoulder problem meant that surgery was prescribed, but I wanted to find a less invasive solution.
At that time Sifu Peter Newton, who specialises in the healing properties of Tai Chi, ran a local group which I joined. After 6 months of Yang style hand form and Qi Gong routines, my shoulder was completely pain-free. On reflection, the underlying problem was not the shoulder, but an excess of stress. That class eventually discontinued, but it filled me with enthusiasm for Tai Chi.
From 2006 I began to study Wu style, learning the 108 Form in both square and round variations with Maria Yuen, with valuable input from Sifu John Yuen's seminars. These classes were excellent at introducing a wide variety of Tai Chi activities, and especially the applications of Tai Chi as a martial art. As well as the solo hand forms, we practised Push Hands, Da Lu, Tai Chi Boxing, two-person hand forms, and weapon forms including staff, sword and single broadsword.
Tai Chi often triggers an interest in Chinese culture and philosophy. It was exciting to discover a nearby class in Chen style, the most ancient and authentic form of Tai Chi. After a short taster course, I was impressed both by the depth of teaching, and by rapid improvements in body structure, posture and strength.
So, from 2009, I committed to study more intensively with my teacher, Master Kam Lau of the Kam Lau School of Tai Chi Chuan in Liverpool. Master Kam kindly and subtly helped me to an altogether deeper understanding, which has been positively life-changing. I have found that Master Kam Lau, once he knows that you are really interested, offers his skills generously and with a caring focus on his students' developement.
It is a pleasure to study with such a disciplined and well-regarded school. For example, I am training alongside colleagues of long experience and great expertise, including UK champions. Those classmates are so welcoming and ready to share their skills and understanding, which makes a huge difference. A key benefit of our school is its short "lineage". As a direct disciple, Master Kam's direct links to Grandmaster Chen Xiaowang, standard bearer of the 19th generation of the Chen family, have allowed our group to study with the Grandmaster in person. It is an unbelievable honour to have learned a little from the man who created the forms we teach.
Most of all, I find that helping others to experience the enjoyment and benefits of Tai Chi is thoroughly rewarding and fulfilling.