Chinese New Year Dinner 2019 - Year Of The Pig
Last Saturday, 9th February, we celebrated Chinese New Year with our annual dinner at the Liverpool Tai Pan Buffet Restaurant. Thank you to everyone who came to enjoy the food and drinks with us! We greatly appreciate the support of the 80+ people who came on the evening.
Once again the food did not disappoint! We were spoilt for choice again as we had to pick and choose from starters including soups, prawn crackers and crispy duck tortillas; to main courses of stir-fried rice, noodles, omelettes, chips, salt and pepper wings, squid, ribs, chicken; to traditional asian dishes such as mapo tofu and sushi; to dessert where you could pick from up to 8 different slices of cake, at least 5 different types of jelly, plentiful scoops of ice cream (and pancake if you asked the ice cream server to make one for you!); and lots, lots more!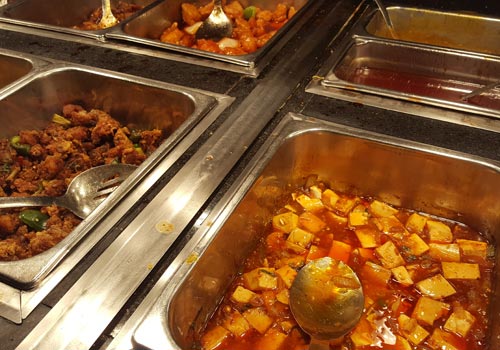 We took photos of as many people as we could, but this time we also took a few of the food too! We've uploaded a selection of the photos to Facebook. We apologise if your photo is missing for whatever reason.
For the students who were unable to make it to our dinner that night - Do not worry! There's always next time! Plus you are always welcome to try the food at the Tai Pan Oriental Buffet on Hanover Street at any time during the year. If you have never been then you should definitely try it!
And finally, from Kam and all the instructors at the School, we would like to wish everyone a Happy Chinese New Year! Gung hei fat choi!!!